Politian's have always used a crisis for political gain, and Trudeau is just the same. Trudeau has created multiple different wedge issues in the past to divide the nation and our local communities for his partisan gain.
"Almost 90% of truckers in Canada are vaccinated," Trudeau said Monday when asked about supply chain issues.
"I regret that the Conservative party and Conservative politicians are in the process of stoking Canadians' fears about the supply chain. The reality is that vaccination is how we'll get through this."
The message to Trudeau's base of supporters: Be angry at the people who are keeping us locked down.
A supply chain issues started when Trudeau and other world leaders decided to shut down the economy. Now we are facing another wrench thrown in to the gears grinding the supply chain to a halt. Trudeau has imposed overreaching wide spread Government Policy failures to satisfy his own narcissism.
Before the cross border truckers vaccine mandate there was a shortage of truckers, Canada was short 23,000 truck drivers. Oppressively burdensome regulations and tough working conditions made some exit the industry, but this vaccine mandate just made everything worse.
The Canadian Trucker Alliance estimates 85% of the 120,000 Canadian truckers that cross the border is vaccinated meaning 15% is unvaccinated or presumed unvaccinated because they value their privacy and other people's right to choose. This calculates to 18,000 truckers that make up the 15%.
This mean 18,000 truckers are unable to deliver or pick up shipments in the United States, and of course common sense and logic tell us that means less supplies and products on the store shelf when we go shopping leading to higher prices at the check out.
Trudeau and the mainstream media want Canadians to think this issue is only for redneck, racists' far right-wing truckers, politians and Canadians -this claim is ridiculous and so far from the truth they're in a fantasy world. The fact of the matter is, these truckers, general public and politician supporters are far from that. These are hard working citizens and pay their taxes that come from all walks of life uniting together for their freedoms.
Some surveys being posted online, a majority of Canadians support the Convoy for Freedom 2022. CTV couldn't believe Canadians actually valued their freedoms they had to run the survey multiple times to make the awakening was happening and people were starting to see through their propaganda and fearmongering lying for the Government and unelected health officials. The people that don't support it, averaged around 25% which is a very small fringe group.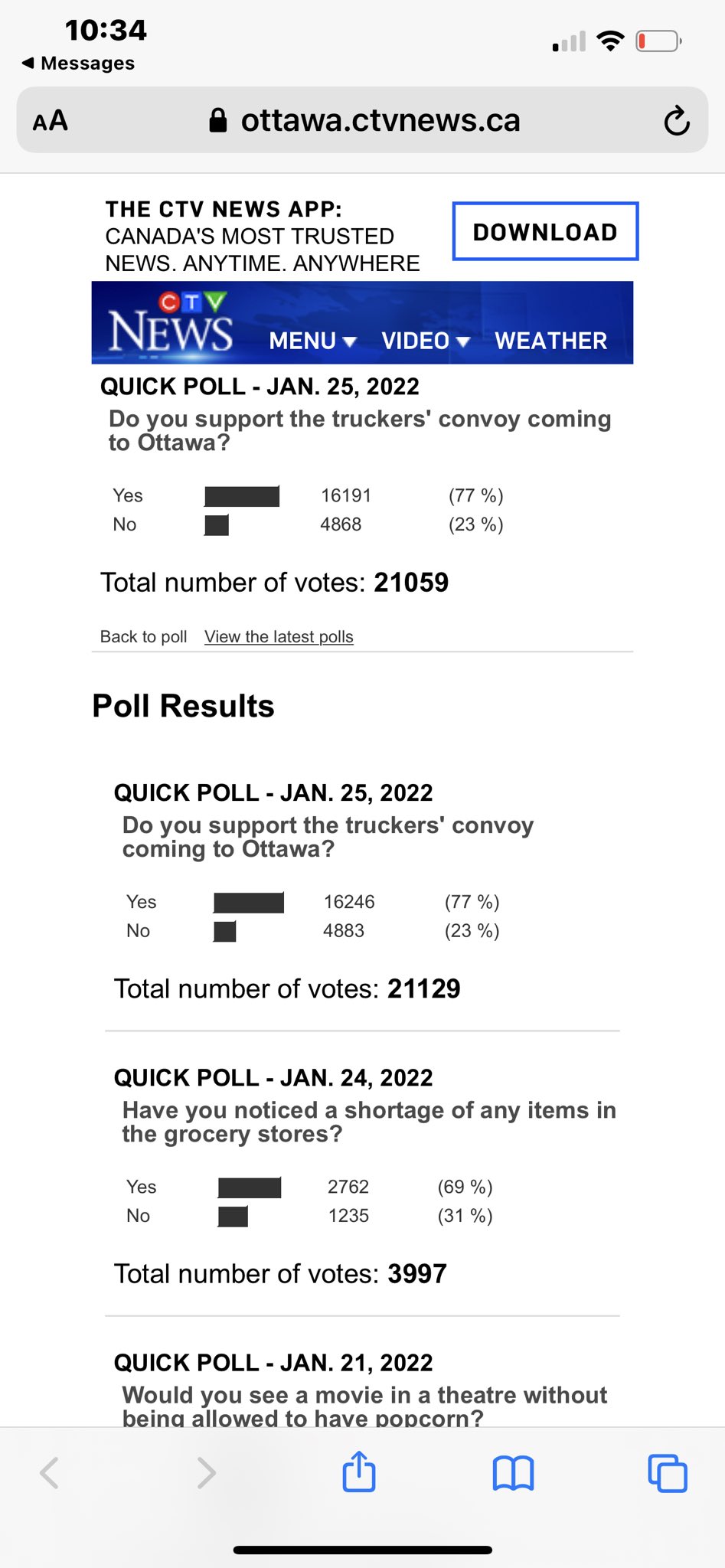 In a statement released last week, the Retail Council expressed concern that the vaccine mandate for truckers will result in yet another increase in freight costs and significant disruption to supply chains.
"What we are asking for is that they delay implementation at a time when supply chains are under severe pressure and that they use that time to encourage and facilitate vaccinations," said Perrin Beatty, president of the Canadian Chamber of Commerce.
Canada's manufacturing sector is also being hit.
"We can't get the goods we need because of the supply chain bottlenecks made worse by the trucker vaccine mandate. Our manufacturers can't operate and Canadians are seeing empty shelves," Dennis Darby, president and CEO of CME, said last week after meeting with the Trudeau government on this issue
Not all of the blame can be put on Trudeau's feet because we already had a trucker shortage before COVID but Trudeau's Government Policy failures have made the problems even worse and have been designed to hurt Canadians not help them.
The people standing up and to sound the alarm are not radicals, these are people with common sense and logical thinking. These are also the people that have been working along side the government throughout this pandemic
The vaccines have been proven with science and data to only be for self protection and do not protect anyone else from inside your body. Omicron is common knowledge to be less severe making it more like the flu, which has been recognized by Health Officials cross Canada and the world.
Early treatment medicines are starting to roll out and we have multiple ways to test for COVID-29.
These are all facts but they get in the way of Justin Trudeau's narrative and destroys his chances to exploit another crisis for his personal political gain.